Rana sylvatica
Wood Frog
family: Ranidae
Taxonomic Notes: This species is placed in Lithobates by some authors, following Frost et al., 2006. This has been a controversial decision, because such well-known species as Rana catesbeiana, with an enormous literature, are made more obscure to many. What is not controversial is that Lithobates is the sister taxon of Rana, so the argument is simply one of Linnean ranks. AmphibiaWeb recommends treating Lithobates as a subgenus of Rana, with species names to be written as Rana (Lithobates) catesbeiana, as an example. This option preserves the maximal amount of phylogenetic information and preserves a long-standing taxonomy.

&copy 2009 Brian Gratwicke (1 of 86)

Country distribution from AmphibiaWeb's database: Canada, United States

U.S. state distribution from AmphibiaWeb's database: Alaska, Alabama, Arkansas, Colorado, Connecticut, District of Columbia, Delaware, Georgia, Idaho, Illinois, Indiana, Kentucky, Massachusetts, Maryland, Maine, Michigan, Minnesota, Missouri, Montana, North Carolina, North Dakota, New Hampshire, New Jersey, New York, Ohio, Oklahoma, Pennsylvania, Rhode Island, South Carolina, South Dakota, Tennessee, Virginia, Vermont, Wisconsin, West Virginia, Wyoming

Canadian province distribution from AmphibiaWeb's database: Alberta, British Columbia, Manitoba, New Brunswick, Newfoundland and Labrador, Nova Scotia, Northwest Territories, Nunavut, Ontario, Prince Edward Island, Quebec, Saskatchewan, Yukon

IUCN (Red List) status: Least Concern (LC).
For Red List information on this species, see the IUCN species account.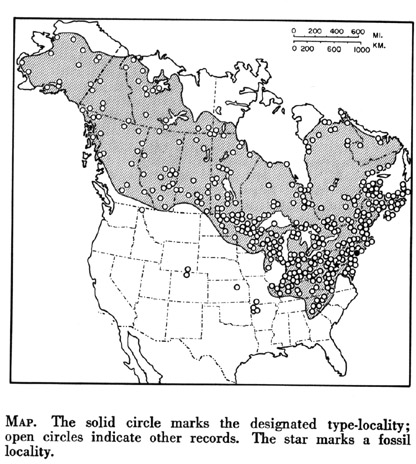 From Martof 1970. Catalogue of American Amphibians and Reptiles.
---
From Laura Blackburn, Priya Nanjappa, and Michael J. Lannoo (2001) US Amphibian Dist. Maps (http://home.bsu.edu/home/00mjlannoo/)
---
Feedback or comments about this page.
Citation: AmphibiaWeb: Information on amphibian biology and conservation. [web application]. 2016. Berkeley, California: AmphibiaWeb. Available: http://amphibiaweb.org/. (Accessed: Jun 25, 2016).
AmphibiaWeb's policy on data use.