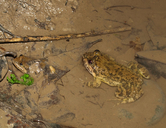 &copy 2009 Devin Edmonds (1 of 10)




Country distribution from AmphibiaWeb's database: China, Hong Kong, India, Indonesia, Lao People's Democratic Republic, Malaysia, Myanmar, Taiwan, Thailand, Viet Nam


Conservation Status (definitions)
IUCN (Red List) Status
Least Concern (LC)
See IUCN account.
CITES
No CITES Listing

Other International Status
None
National Status
None
Regional Status
None
Can you confirm these amateur observations of Limnonectes kuhlii?
Range Description
This is a very wide-ranging species. It is found in southern Yunnan and Guangxi provinces, China, in two small areas of northeastern India (in Arunachal Pradesh), and throughout Southeast Asia south to Java, Borneo, the Anambas Islands and the Natunas Islands, but it has not been recorded from Cambodia or Singapore. It occurs from 200-1,800m asl.
Habitat and Ecology
It is found in small, clear streams in evergreen forest in hilly areas. It breeds in small tributary streams and the larvae develop in quiet pools along these streams. It does not wander from the vicinity of streams. In China it has also been found in still-water ponds and streams among fields.
Population
It is a common and locally abundant frog.
Population Trend
Decreasing
Major Threats
The major threat to this species is deforestation, and although the species complex as a whole is not at risk, some of its component cryptic taxa might be threatened by local threatening processes. It is locally collected for consumption and in China this might be threatening the species' survival.
Conservation Actions
It occurs in many protected areas, and the priority is to safeguard these. Clarification of its taxonomic status and studies of its conservation biology and harvest levels are needed. It is protected by national legislation in India.
Taxonomic Notes
This species almost certainly represents a complex of more than one species containing many taxa with more restricted distributions. There might even be several species in Borneo alone (R. Inger pers. comm.). The presence of Limnonectes kuhlii in India is doubtful and requires further investigation. The record might correspond to a species of Paa (A. Ohler pers. comm.).
Citation
Peter Paul van Dijk, Djoko Iskandar, Robert Inger, Michael Wai Neng Lau, Yang Datong, Annemarie Ohler, Lu Shunqing, Saibal Sengupta, Sabitry Bordoloi 2004. Limnonectes kuhlii. In: IUCN 2014
IUCN Terms of Use