Acris gryllus
Southern Cricket Frog, Florida Cricket Frog (A. g. dorsalis), Southern Cricket Frog (A. g. gryllus)
family: Hylidae
subfamily: Hylinae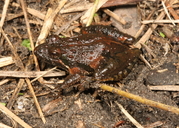 &copy 2010 Matthew Niemiller (1 of 25)
| | |
| --- | --- |
| | hear call (172.4K MP3 file) |
| | hear call (522.2K MP3 file) |
Range Description
This species ranges from southeastern Virginia to southern Florida, west to southeastern Tennessee and southeastern Louisiana, USA.
Habitat and Ecology
Its habitat is grassy margins of swamps, marshes, lakes, ponds, streams, ditches, bogs, and nearby temporary pools, including such habitats in openly wooded areas that do not produce excessive shade. Eggs and larvae develop in shallow water.
Population
Its population is fairly abundant in many parts of its range.
Population Trend
Stable
Major Threats
It is not considered to be very threatened but is detrimentally affected by activities that degrade or destroy wetlands, including changes that involve the introduction of exotic fishes.
Conservation Actions
It benefits from most measures that protect wetlands and improve their management.
Citation
IUCN SSC Amphibian Specialist Group 2014. Acris gryllus. In: IUCN 2014
IUCN Terms of Use