Agalychnis lemur
Lemur Leaf Frog
family: Hylidae
subfamily: Phyllomedusinae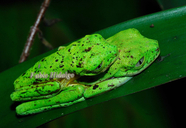 &copy 2013 Fabio Hidalgo (1 of 43)

Conservation Status (definitions)
IUCN (Red List) Status
Critically Endangered (CR)
CITES
No CITES Listing

Other International Status
Critically Endangered
National Status
None
Regional Status
None
Range Description
This species occurs in Costa Rica and Panama, and marginally in Colombia. It occurs predominantly on the Atlantic versant from the vicinity of Tilarán, Guanacaste Province, Costa Rica, to western Panama; the disjunct Pacific slope records are from north-western Costa Rica and south-western, central, and extreme eastern Panama in the Darien area, where it extends marginally across the border into Colombia. In Costa Rica the species is now only known with certainty from three sites: Fila Asunción, 15km south-west of Limón (an abandoned farm); in a forested area near Parque Nacional Barbilla near Siquirres (where one female has been found); and from Guayacán (in Limón Province). The first of these three sites is the only site known to have a large breeding population. All other previously known Costa Rican populations of this species have disappeared including those in Monteverde, San Ramón, Braulio Carrillo, and Tapantí. Its altitudinal range is 440-1,600m asl.
Habitat and Ecology
It is a nocturnal tree frog associated with sloping areas in humid lowland and montane primary forest, and is not found in degraded habitats. The eggs are usually deposited on leaf surfaces and the larvae are washed off or fall into water below the site of oviposition.
Population
It was once considered to be a reasonably common species in Costa Rica, but most populations have recently disappeared. The species is still considered to be reasonably common in lower elevation in central and eastern parts of Panama (where, for example, there are recent records from Palmarazo), but extensive declines have been recorded in western Panama from the Reserva Forestal Fortuna, Chiriquí, (no records from this site since 1999) and El Copé, Coclé (declined from 2004, although it persists at a very reduced abundance [Karen Lips pers. comm. 2007]) (Lips et al. 2006). There is no recent population information from Colombia.
Population Trend
Decreasing
Major Threats
The massive declines noted in this species are probably due to chytridiomycosis. Recent studies by Woodhams et al. (2006) found that among species studies, this was one of the more resistant species to infection with chytridiomycosis; possibly suggesting a reason for the continued persistence of limited numbers of this species at El Copé. General habitat loss also remains a threat, and this is especially the case in Costa Rica where deforestation by squatters threatens Fila Asunción, one of the three known remaining populations.
Conservation Actions
Within Costa Rica, the former range included several national parks and other protected areas; none of the remaining populations are within protected areas (Gerardo Chaves pers. comm. 2007). The species is known to be present within at least six Panamanian protected areas, but it is not known from any protected areas in Colombia. A successful captive breeding program began in 2001 at the Atlanta Botanical Garden, which has since transferred individuals to other zoos to continue these captive breeding efforts. An ex-situ population of this species is breeding at the El Valle Amphibian Conservation Center in Panama (Edgardo Griffith pers. comm. September 2007).
Taxonomic Notes
This species was previously within the genus Phyllomedusa but has recently been moved to the genus Hylomantis (Faivovich et al. 2005).
Citation
Solís, F., Ibáñez, R., Savage, J., Jaramillo, C., Fuenmayor, Q., Kubicki, B., Pounds, J., Chaves, G., Jungfer, K. & Lips, K. 2008. Agalychnis lemur. In: IUCN 2014
IUCN Terms of Use