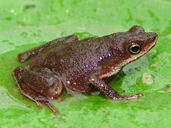 &copy 2007 German Chavez (1 of 15)

Conservation Status (definitions)
IUCN (Red List) Status
Least Concern (LC)
CITES
No CITES Listing

Other International Status
None
National Status
None
Regional Status
None
Range Description
This species occurs in Amazonian, Orinocan and the Andean foothills of Colombia (from the Llanos of Meta south to Amazonia), Ecuador, Peru, Bolivia, Brazil, central and southern Guyana, Suriname, and throughout French Guiana. It is generally found at 0-300m asl but can be found at up to 1,000m asl near Puyo, Ecuador.
Habitat and Ecology
It can be found in old and second growth Tropical Moist Forest and Premontane Humid Forest on the forest floor. It is active on the forest floor by day (Lynch, 2006). Reproduction takes place in natural semi-permanent and temporary waterbodies. The eggs are laid out of water usually on roots over the water, and the larvae develop in the water.
Population
It is locally abundant throughout its range, except it is rare in Bolivia.
Population Trend
Stable
Major Threats
Logging, forest conversion and fires are threats to this species.
Conservation Actions
Many conservation units are present within its range.
Taxonomic Notes
This species might be a complex of more than one species.
Citation
Luis A. Coloma, Santiago Ron, Robert Reynolds, Claudia Azevedo-Ramos, Fernando Castro 2010. Amazophrynella minuta. In: IUCN 2014
IUCN Terms of Use