Anaxyrus woodhousii
Woodhouse's Toad, Southwestern Woodhouse's Toad (B. w. australis), East Texas Toad (B. w. velatus), Rocky Mountain Toad or Woodhouse's Toad (B. w. woodhousii)
family: Bufonidae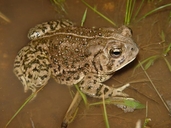 &copy 2011 Timothy Burkhardt (1 of 44)
| | |
| --- | --- |
| | hear call (105.0K RM file) |
Description
This species (Woodhouse's Toad) is large for a toad, with normally proportioned limbs and a blunt snout. Its paratoid glands are narrow, and spread apart by more than one (parotoid) length. Cranial crests run lengthwise from the front of the eyes to back edge of the eyes, then turn sharply towards the side of the toad and extend to the outside edges of the eyes. The warts are dark and small. Each wart has a red spot at its tip. The toad is olive green on its dorsal side, with dark splotches and a pale stripe down center of back. The underside is creamy and unmarked, while the throat is slightly darker in color.

Subspecies include Anaxyrus woodhousii australis (Southwestern Woodhouse's Toad), A. w. velatus (East Texas Toad) and A. w. woodhousii (Woodhouse's Toad or Rocky Mountain Toad).

Distribution and Habitat


Country distribution from AmphibiaWeb's database: Canada, Mexico, United States

U.S. state distribution from AmphibiaWeb's database: Arizona, California, Colorado, Iowa, Idaho, Kansas, Missouri, Montana, North Dakota, Nebraska, New Mexico, Nevada, Oklahoma, Oregon, South Dakota, Texas, Utah, Washington, Wyoming

This toad has a broad distribution. It reaches the southwest area of Oregon, and is found through Idaho, Montana, and South Dakota; into western Iowa and western Missouri; south through Kansas, Oklahoma and Texas, and just into northern Mexico; through New Mexico, Arizona and into southeastern Nevada and southeastern California.

Life History, Abundance, Activity, and Special Behaviors
This species flourishes in any moist area, from irrigation ditches to canyons to swamps. It breeds from March to July and lays eggs in shallow, slow moving, ephemeral bodies of water. The tadpoles metamorphose in a single season.

Comments
The habitat of this toad overlaps the habitat of Anaxyrus americanus and Anaxyrus woodhousi fowleri. The eggs of A. woodhousi resemble those of A. fowleri, and adult A. woodhousi resemble adult A. americanus.

See another account at californiaherps.com.

References


Stebbins, R. C. (1985). A Field Guide to Western Reptiles and Amphibians. Houghton Mifflin, Boston.
---

Written by Franziska Sandmeier (franturtle AT yahoo.com), UC Berkeley
First submitted 2001-04-25
Edited by Kellie Whittaker (2012-08-15)

Species Account Citation: AmphibiaWeb 2012 Anaxyrus woodhousii: Woodhouse's Toad <http://amphibiaweb.org/species/314> University of California, Berkeley, CA, USA. Accessed Oct 18, 2017.
---

Feedback or comments about this page.

Citation: AmphibiaWeb. 2017. <http://amphibiaweb.org> University of California, Berkeley, CA, USA. Accessed 18 Oct 2017.

AmphibiaWeb's policy on data use.