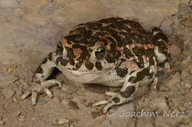 &copy 2016 Dr. Joachim Nerz (1 of 93)

Conservation Status (definitions)
IUCN (Red List) Status
Least Concern (LC)
CITES
No CITES Listing

Other International Status
Bern Convention (Annex 2); Not Threatened
National Status
Red Data Books of Estonia, as well as the Middle Urals (Perm and Sverdlovsk provinces) and Moscow Province of Russia.
Regional Status
Throughout the range, except for its northern parts, this is common or numerous species. At the north, however, its number is low, and in some areas in is declining or extinct species.
Range Description
Following the revision of the Bufo viridis complex by Stöck et al. (2006), populations of Green Toads now allocated to Bufotes viridis are distributed through much of Europe (excluding much of Fenno-Skandia, the British Isles, almost the whole of Italy, the Iberian Peninsula and almost all of Europe west of the Rhine River) eastwards to Kazakhstan. Populations of Green Toads from the southern tip of Sweden, Denmark and northern Germany were provisionally identified as Bufotes (Bufo) variabilis by Stöck et al. (2006), however, it is possible that populations of Bufotes viridis are also within these areas. The species of Green Toad on the island of Malta is unclear, and is retained here in Bufotes viridis pending further research. Populations of Green Toad from the Eastern Mediterranean countries, and much of Central and Middle Asia are now largely allocated to Bufotes (Bufo) variabilis by Stöck et al. (2006). Populations from North Africa are now included within Bufotes boulengeri. Populations of Green Toads from the Balearic Islands (Spain), Corsica (France), Sardinia (Italy) and much of mainland Italy are now recognized as Pseudepidalea balearica. Green toad populations from Sicily, Italy, now mostly comprise the endemic Bufotes siculus, with some populations of Bufotes balearicus in the northeast of this island. The status of Green Toads in Israel, Jordan, Sinai (Egypt) and of the isolated, relict population in the southern Hadramaut in southwestern Saudi Arabia is currently unclear, and it is possible that these populations should be included within either Bufotes variabilis or Bufotes boulengeri pending further review.
Habitat and Ecology
This species lives in a wide range of forests, forest steppe, scrubland, grassland and alpine habitats. Animals may be present in modified areas including urban centres (e.g. Bucharest), city parks and gardens - and often benefits from disturbed habitats. Spawning and larval development occurs in a diverse range of temporary and permanent waterbodies including swamps, ponds, lakes, pools in streams and rivers, reservoirs, ditches and puddles.
Population
This species is still considered a relatively abundant to common species over large parts of its range, although populations formally recognized as Bufotes viridis are rare or declining on the fringes of its range in Europe (e.g., Denmark and Sweden). It is extinct in Switzerland despite re-introduction efforts.
Population Trend
Decreasing
Major Threats
The main threat over much of the range (most especially in the north) appears to be the loss of breeding habitats through wetland drainage, desiccation and aquatic pollution (industrial and agricultural). Populations might be locally declining due to mortality on roads.
Conservation Actions
The species is listed on Appendix II of the Bern Convention and is listed on Annex IV of the EU Natural Habitats Directive. It is protected by national legislation in many countries; it is recorded on many national and sub-national Red Data books and lists and is present in many protected areas. In parts of this species range, mitigation measures to reduce road kill have been established.
Taxonomic Notes
Further revision of taxonomy of the Bufotes viridis complex with the use of genetic and biochemical data is needed. There was disagreement over the use of the generic name Pseudepidalea in place of Bufo and now most species have been moved to Bufotes because of non-monophyly of both Bufo and Pseudepidalea.
Citation
Aram Agasyan, Aziz Avci, Boris Tuniyev, Jelka Crnobrnja Isailovic, Petros Lymberakis, Claes Andrén, Dan Cogalniceanu, John Wilkinson, Natalia Ananjeva, Nazan Üzüm, Nikolai Orlov, Richard Podloucky, Sako Tuniyev, U?ur Kaya, Matthias Stöck, Muhammad Sharif Khan, Sergius Kuzmin, David Tarkhnishvili, Vladimir Ishchenko, Theodore Papenfuss, Gad Degani, Ismail H. Ugurtas, Nasrullah Rastegar-Pouyani, Ahmad Mohammed Mousa Disi, Steven Anderson, Trevor Beebee, Franco Andreone 2015. Bufotes viridis. In: IUCN 2014
IUCN Terms of Use