Dendropsophus brevifrons

family: Hylidae
subfamily: Hylinae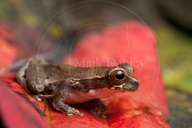 &copy 2010 Maik Dobiey (1 of 8)

Conservation Status (definitions)
IUCN (Red List) Status
Least Concern (LC)
CITES
No CITES Listing

Other International Status
None
National Status
None
Regional Status
None
Range Description
This species occurs in the "Upper Amazon Basin of Colombia, Ecuador, and Peru, as well as French Guiana" (Frost, 2000). It was recently recorded in central Guyana (Ernst et al., 2005) and it is also known from widely scattered populations along the Madeira and Amazon Rivers in Amazonas state, Brazil. A dot-map of its distribution in French Guiana is provided in Lescure and Marty (2001).
Habitat and Ecology
This nocturnal species is usually observed on the leaves of bushes in tropical rainforest and secondary forest. After heavy rains, the frogs congregate at ponds in, or at the edge of, the forest (Rodríguez and Duellman, 1994). At Yasuní National Park, Ecuador, individuals have been found in open areas and flooded forests (Ron, 2001). Eggs are laid out of the water on leaves, and the larvae develop in semi-permanent pools.
Population
It is not common in French Guiana or Brazil (Lescure and Marty, 2001), but it is common in Colombia, Ecuador and Peru.
Population Trend
Stable
Major Threats
Habitat loss and degradation is a threat to this species, but it does adapt to habitat alteration.
Conservation Actions
Many conservation units are present within its range. In Ecuador, its geographic range overlaps with Reserva de Producción Faunística Cuyabeno, Parque Nacional Yasuní, Reserva Ecológica Cayambe-Coca, Parque Nacional Sumaco Napo-Galeras and Reserva Biológica Limoncocha. It is known from the Mabura Hill Forest Reserve in Guyana (Ernst et al., 2005).
Taxonomic Notes
This species was previously within the genus Hyla but has recently been moved to the resurrected genus Dendropsophus (Faivovich, et al., 2005).
Citation
Claudia Azevedo-Ramos, Robert Reynolds, Luis A. Coloma, Santiago Ron 2010. Dendropsophus brevifrons. In: IUCN 2014
IUCN Terms of Use