Dendropsophus minutus
Lesser Treefrog
family: Hylidae
subfamily: Hylinae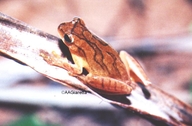 &copy 2004 Ariovaldo Giaretta (1 of 35)
| | |
| --- | --- |
| | hear call (288.4K MP3 file) |
| | hear call (1115.1K MP3 file) |
Range Description
This species occurs in the lowlands east of the Andes, from the Guianas, Trinidad and Tobago, Colombia, and Venezuela southward through Ecuador, Peru, and Brazil to Bolivia (including interandean dry valleys), Paraguay, Uruguay, and Salta and Misiones Provinces in Argentina. In Bolivia, it occurs at up to 1,800m asl.
Habitat and Ecology
It is an inhabitant of tropical moist forests (including clearings), forest edge, and marshes. Although it is especially common in the lowlands, where the frogs congregate in large numbers at temporary ponds in the forest, it is also common around roadside ditches and puddles in the cloud forest on the steep slopes of La Escalera and at grassy ponds in the Gran Sabana (Duellman, 1997). It colonizes man-made standing water caused by agricultural activities and the constructions of roads (Gorzula and Señaris, 1999). It is found on leaves and branches in tropical rainforest. Reproduction takes place in temporary waterbodies. The eggs are laid in the water, and the tadpoles develop there also. In southeastern Brazil, reproductive activity has been reported for the months of December to January, and possibly also February (Abrunhosa et al., 2006). Individuals from Santa Cecilia, Ecuador, were found in a restricted area of disturbed forest (Duellman, 1978).
Population
This is one of the most common amphibians of South America found largely in Brazil. In the rainy season, this is the most abundant species in the Gran Sabana region in southeastern Venezuela.
Population Trend
Stable
Major Threats
There is no relevant threat to the species overall.
Conservation Actions
Its range includes many protected areas. In Ecuador, its geographic range overlaps with Parque Nacional Sumaco Napo-Galeras.
Taxonomic Notes
This species was previously within the genus Hyla but has recently been moved to the resurrected genus Dendropsophus (Faivovich, et al., 2005). It is probably a complex of more than one species.
Citation
Débora Silvano, Claudia Azevedo-Ramos, Enrique La Marca, Luis A. Coloma, Santiago Ron, Jose Langone, Diego Baldo, Jerry Hardy 2010. Dendropsophus minutus. In: IUCN 2014
IUCN Terms of Use