Dendropsophus phlebodes
San Carlos Treefrog
family: Hylidae
subfamily: Hylinae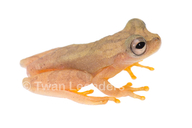 &copy 2017 Twan Leenders (1 of 8)

Conservation Status (definitions)
IUCN (Red List) Status
Least Concern (LC)
CITES
No CITES Listing

Other International Status
None
National Status
None
Regional Status
None
Range Description
This species from Central America occurs in the humid lowlands of the Atlantic versant from southeastern Nicaragua, including Isla Grande de Maíz, through Costa Rica to eastern Panama; and on the Pacific versant from central Panama to northwestern Colombia, and barely across the continental divide into northwestern Costa Rica. Its altitudinal range is 20-620m asl.
Habitat and Ecology
It inhabits lowland humid forest, but may also occur in disturbed habitats. It is an explosive breeder following torrential rains. The eggs are deposited in small masses on the surface of shallow breeding ponds.
Population
Within forests it is a relatively rare species, however in Costa Rica, it is very common outside of forests, especially in areas of cattle pasture with some ponds (Federico Bolaños pers. comm. 2007).
Population Trend
Stable
Major Threats
This is a very adaptable species, present wherever there are swampy or wet habitats (Federico Bolaños pers. comm. 2007). There may be localised threats through deforestation for agricultural development, illegal crops, logging, and human settlement, and pollution resulting from the spraying of illegal crops.
Conservation Actions
It has been recorded from several protected areas.
Taxonomic Notes
This species was previously within the genus Hyla but has recently been moved to the resurrected genus Dendropsophus (Faivovich, et al., 2005).
Citation
Frank Solís, Roberto Ibáñez, César Jaramillo, Gerardo Chaves, Jay Savage, Gunther Köhler, Karl-Heinz Jungfer, Wilmar Bolívar, Federico Bolaños, Javier Sunyer 2010. Dendropsophus phlebodes. In: IUCN 2014
IUCN Terms of Use