Dendropsophus rubicundulus
Lagoa Santa's Tree Frog, pererequinha-verde
family: Hylidae
subfamily: Hylinae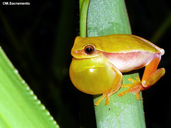 &copy 2011 Mario Sacramento (1 of 12)
| | |
| --- | --- |
| | hear call (588.4K MP3 file) |
| | hear call (133.7K MP3 file) |
Range Description
This species is known from the Cerrado of southern Pará to central Minas Gerais state, Brazil, from eastern Paraguay, and from eastern Bolivia in Santa Cruz department. There are only a few records known from eastern Paraguay.
Habitat and Ecology
It inhabits the Cerrado and occurs on the emergent or marginal herbaceous vegetation near ponds, pools, or lagoons in open areas. It breeds in permanent and temporary ponds, near grassland vegetation. It does not adapt well to anthropogenic disturbance.
Population
It is very common in Brazil, but is uncommon in Bolivia and Paraguay.
Population Trend
Decreasing
Major Threats
Agriculture, both crops and livestock, as well as logging, fires, and the construction of dams are major threats to the species' habitat.
Conservation Actions
Taxonomic research is needed to resolve this species complex. It occurs in protected areas throughout most of its range.
Taxonomic Notes
This species was previously within the genus Hyla but has recently been moved to the resurrected genus Dendropsophus (Faivovich, et al., 2005). This form is a complex of more than one species.
Citation
Guarino Colli, Steffen Reichle, Débora Silvano 2004. Dendropsophus rubicundulus. In: IUCN 2014
IUCN Terms of Use