Duttaphrynus melanostictus
Southeast Asian Toad, Asian Common Toad, Spectacled Toad
family: Bufonidae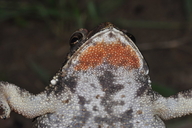 &copy 2010 Dr. Peter Janzen (1 of 65)
| | |
| --- | --- |
| | hear call (1200.2K MP3 file) |
Range Description
This species occurs widely from northern Pakistan through Nepal, Bangladesh, India (including the Andaman and Nicobar Islands), Sri Lanka, southern China (including Taiwan, Hong Kong and Macau), Myanmar, Lao People's Democratic Republic, Viet Nam, Thailand and Cambodia to Malaysia, Singapore, and Indonesia (Sumatra, Java, Borneo, Anambas Islands and Natuna Islands, introduced to Bali, Sulawesi, Ambon and Manokwari, New Guinea (northeastern portion of the Vogelkop Peninsula, centred on Manokwari). It has been recorded from sea level up to 1,800m asl.
Habitat and Ecology
It is mainly a species of disturbed lowland habitats, from upper beaches and riverbanks to human-dominated agricultural and urban areas. It is uncommon in closed forests. It breeds in still and slow-flowing rivers and temporary and permanent ponds and pools. Adults are terrestrial and may be found under ground cover (eg. rocks, leaf-litter, logs), and are also associated with human habitations. The larvae are found in still and slow-moving waterbodies.
Population
It is an abundant species throughout its range that is probably increasing in many areas.
Population Trend
Increasing
Major Threats
There are no major threats to this very adaptable species. It is sometimes found in the international pet trade but at levels that do not currently constitute a major threat. It is eaten locally in northern Thailand.
Conservation Actions
None needed, other than further taxonomic study. The range of this species overlaps with many protected areas across its range. The species should be exterminated from New Guinea as a matter of urgency.
Taxonomic Notes
This form is probably a complex of more than one species. Duttaphrynus tienhoensis was synonymized with D. melanostictus by Dubois and Ohler (1999).
Citation
Peter Paul van Dijk, Djoko Iskandar, Michael Wai Neng Lau, Gu Huiqing, Geng Baorong, Lue Kuangyang, Chou Wenhao, Yuan Zhigang, Bosco Chan, Sushil Dutta, Robert Inger, Kelum Manamendra-Arachchi, Muhammad Sharif Khan 2004. Duttaphrynus melanostictus. In: IUCN 2014
IUCN Terms of Use