Duttaphrynus olivaceus
Olive Toad
family: Bufonidae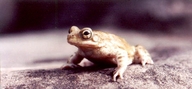 &copy 1996 Muhammad Sharif Khan (1 of 12)
| | |
| --- | --- |
| | hear call (283.2K MP3 file) |
| | hear call (1543.3K MP3 file) |
Range Description
This species is restricted to the Sistan va Baluchistan Province of southeastern Iran and western Baluchistan of Pakistan. It has not been recorded from Afghanistan and does not occur in India (M. Khan pers. comm.). This species ranges from approximately sea level to around 700m asl.
Habitat and Ecology
It is generally found in areas where available water occurs, including irrigated land, springs, oasis and all other wetlands. The habitat surrounding these wetlands is mostly semi-desert with date palms. The species largely depends upon wetlands created by agricultural activity. It breeds in ponds and oasis, often in date palm groves. The larvae feed on algal vegetation deposited on the surface of submerged objects. This is an adaptable species often found around human habitations.
Population
This toad is locally common in Iran (at areas with permanent water) and locally common in Pakistan (frequent at certain localities).
Population Trend
Stable
Major Threats
The populations of this toad in Pakistan are locally threatened by pollution through the use of agrochemicals, and drought and habitat alteration might be leading to some localized declines. There are no immediate threats to the species in Iran.
Conservation Actions
In Iran part of the species range along the Sarboz River is within a protected crocodile sanctuary.
Taxonomic Notes
Auffenberg and Rehman (1977) showed Bufo olivaceus to be morphologically distinct from Bufo stomaticus.
Citation
Matthias Stöck, Muhammad Sharif Khan, Theodore Papenfuss, Steven Anderson, Sergius Kuzmin, Nasrullah Rastegar-Pouyani, Sushil Dutta, Annemarie Ohler, Saibal Sengupta, Steven Anderson 2009. Duttaphrynus olivaceus. In: IUCN 2014
IUCN Terms of Use