Epipedobates anthonyi
Anthony's Poison Arrow Frog
family: Dendrobatidae
subfamily: Colostethinae

Species Description: Schulte, R. 1999. Pfeilgiftfroesche.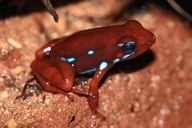 &copy 2008 Frank Steinmann (1 of 23)

Conservation Status (definitions)
IUCN (Red List) Status
Near Threatened (NT)
CITES
Appendix II

Other International Status
Near Threatened
National Status
None
Regional Status
None
Range Description
This species occurs in south-western Ecuador (in El Oro, Azuay and Loja Provinces) and north-western Peru (in Ancash, Piura and Tumbes regions), west of the Andes, at 153-1,769m asl. The record from Ancash, Peru, is doubtful (E. Lehr pers. comm.). It is likely to occur a little more widely than current records suggest.
Habitat and Ecology
It lives in equatorial dry forest near streams and can be found in altered habitats. It lays its eggs in leaf-litter, and the males carry the larvae to running and standing water where they continue their development.
Population
In southern Ecuador this is an abundant species.
Population Trend
Stable
Major Threats
This species is threatened by agrochemical pollution of waterways, and is also collected for medicinal use in Ecuador (although not currently in sufficient numbers to be a threat).
Conservation Actions
It is not known with certainty if it occurs in any protected areas. The impact on it of collection for medicinal use and commercial trade in wild specimens should be monitored.
Taxonomic Notes
This species and Epipedobates tricolor were recently separated by Schulte (1999). We follow Graham et al. (2004) in restricting the distribution of E. anthonyi to southern Ecuador and northern Peru.
Citation
Luis A. Coloma, Santiago Ron, Stefan Lötters, Pablo Venegas 2010. Epipedobates anthonyi. In: IUCN 2014
IUCN Terms of Use