Hyla savignyi
Lemon-Yellow Tree Frog
Subgenus: Hyla

family: Hylidae
subfamily: Hylinae
Taxonomic Notes: Duellman et al. (Zootaxa 2016) treated two major clades as genera; AmphibiaWeb treats these two clades as subgenera(Hyla in the Old World; Dryophytes in the New World and East Asia), thus stabilizing traditional taxonomy.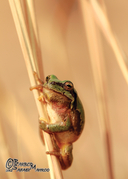 &copy 2012 Barbod Safaei (1 of 42)
| | |
| --- | --- |
| | hear call (831.4K MP3 file) |
| | hear call (880.3K MP3 file) |
Range Description
This species is widespread in western Asia and southern Transcaucasia, including Cyprus, southeastern Turkey, the Levant, the Arabian Peninsula (the Asir region of southern Saudi Arabia and northern Yemen), Iran (Zagros region, and an isolated population in Golestan National Park [Max Kasparek pers. comm. November 2008]), northern Iraq, Talysh (Azerbaijan), Armenia, and northwestwards to Tbilisi, (Georgia). It has also been reported from the northeastern region of Sinai, Egypt (first recorded in the early 1990's). It is present from 400m below sea level (Jordan) to above 1,800m.
Habitat and Ecology
The species lives in much drier landscapes than Hyla arborea, including steppes, deserts and semi-deserts. It is also present in gardens, bush lands, montane forest edges, open oak and juniper forests, and areas with permanent or semi permanent water sources (including oasis) with good surrounding vegetation (e.g.. Phragmites, Oleander). The species may be found at considerable distances from waterbodies in xeric environments, such as rocky slopes and on the xerophytic bush Alhagi pseudoalhagi. Spawning and larval development takes place in small stagnant waterbodies, drainage canals and slow flowing brooks with dense herbaceous and shrub vegetation. The species is able to adapt to light habitat modification, and may be found in rural, or semi-urban, areas where suitable wetland habitat exists.
Population
This species is relatively common in suitable habitat. It is the most abundant amphibian species in Israel; it is very common in Lebanon and is considered to be rare in Jordan.
Population Trend
Stable
Major Threats
Severe drought, drying from water extraction, overgrazing and habitat loss might lead to localized declines. In Syrian Arab Republic and the Arabian Peninsula it might be threatened by water pollution and anthropogenic changes of habitat. In Israel, available breeding sites have declined by up to 30% in recent years.
Conservation Actions
It is protected by national legislation in Israel. Present in protected areas in Georgia (Hoseov and Skibahoa Reserves), Armenia, Azerbaijan, Jordan (Dana and Al Mujib Wildlife Reserves) and Lebanon (Arz El-Shouf, Horj Ehden, Ammiq marshes and Sandy Beach of Sour). It is present in several protected areas in Turkey. The contact zone between H. savignyi and H. arborea in Georgia requires special attention (S. Kuzmin pers. comm.)
Taxonomic Notes
Hyla savignyi is a member of the Hyla arborea complex. It was previously considered to be a subspecies of H. arborea. A new species, Hyla heinzsteinitzi, from Israel, that is related to Hyla savignyi, has recently been described (Grach et al 2007)
Citation
Sergius Kuzmin, Ahmad Mohammed Mousa Disi, Gad Degani, David Tarkhnishvili, Boris Tuniyev, Max Sparreboom, Ismail H. Ugurtas, Nasrullah Rastegar-Pouyani, Steven Anderson, Riyad Sadek, Souad Hraoui-Bloquet, Avital Gasith, Eldad Elron, Sarig Gafny, U?ur Kaya 2009. Hyla savignyi. In: IUCN 2014
IUCN Terms of Use