Hyla squirella
Squirrel Treefrog
Subgenus: Dryophytes

family: Hylidae
subfamily: Hylinae
Taxonomic Notes: Duellman et al. (Zootaxa 2016) treated two major clades as genera; AmphibiaWeb treats these two clades as subgenera(Hyla in the Old World; Dryophytes in the New World and East Asia), thus stabilizing traditional taxonomy.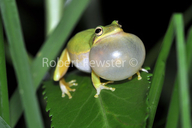 &copy 2012 Robert Fewster (1 of 36)
| | |
| --- | --- |
| | hear call (141.5K MP3 file) |
| | hear call (215.1K MP3 file) |
Range Description
This species is known from Coastal Plain of the eastern USA from southeastern Virginia to Florida Keys, west to southeastern Texas (Conant and Collins, 1991). There are isolated occurrences in Mississippi, North Carolina, and northern Virginia. It is introduced on Grand Bahama Island and Little Bahama Bank (Schwartz and Henderson, 1991).
Habitat and Ecology
Open woods, cities, and towns; thick low vegetation near water; wherever there is adequate moisture, hiding places, nearby standing water, and insect food. When inactive, hides under loose bark, palm leaves, in tree holes, in gardens, and in other protected sites. There is a non-breeding "rain call" given by males from trees and bushes when rainfall is impending. Eggs and larvae develop in flooded roadside ditches, flat woods ponds, swamps, and small, semi permanent stock-watering ponds. Males call from debris and twigs above water, on ground near water, or hidden in grass clumps adjacent to permanent or temporary rain pools of moderate depth (Schwartz and Henderson 1991).
Population
Often abundant, these species populations are likely to be stable.
Population Trend
Stable
Major Threats
There are no major pervasive threats. It adapts to moderate habitat disturbance.
Conservation Actions
There are no conservation measures needed.
Citation
Geoffrey Hammerson, Blair Hedges 2004. Hyla squirella. In: IUCN 2014
IUCN Terms of Use