Hyloscirtus colymba

family: Hylidae
subfamily: Hylinae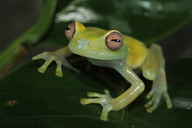 &copy 2013 Brian Freiermuth (1 of 5)

Conservation Status (definitions)
IUCN (Red List) Status
Critically Endangered (CR)
CITES
No CITES Listing

Other International Status
None
National Status
None
Regional Status
None
Range Description
This species is known from the Atlantic slopes of south-eastern Costa Rica to central Panama, from sea level to 1,116 m asl, and also from the Pacific slopes of eastern Panama (Savage 2002). The possible presence of this species in Colombia, adjacent to eastern Panama, needs to be confirmed. Its range, taken as a proxy for extent of occurrence (EOO), is estimated at 16,438 km
Habitat and Ecology
It inhabits cloud forest or humid lowland and montane forest, where it has been found along streams. The species breeds in swift streams; eggs are deposited under rocks, and larvae cling to rocks by means of an oral disk (Savage 2002). 

Population
Little is known about the population size or abundance of this species, but it has undergone drastic declines in western Panama in the past, including Reserva Forestal Fortuna (1996-97), and at El Copé (2004); it is still present at low abundance in the Darien area (Roberto Ibáñez pers. comm. 2007). However, recent survey efforts have produced several records in Veraguas (Hertz et al. 2012). In Costa Rica, the species has not been recorded since 1984, despite some recent sampling effort in the range (F. Bolaños pers. comm. 2007, G. Chaves pers. comm. 2013).

Population Trend
Unknown
Major Threats
Chytrid fungus has been found in this species and has been associated with declines in western Panama (see Lips et al. 2006, Hertz et al. 2012), and a potential outbreak of chytridiomycosis could be a future threat. It is probably also impacted by the destruction of natural forests for the planting of crops, smallholder livestock ranching, logging, and residential and commercial development.

Conservation Actions
It is known from several protected areas in Panama, and a single park in Costa Rica (Parque Internacional La Amistad). In view of the risk of chytridiomycosis, the status of this species should be closely monitored, and ex-situ populations should be established. Research is needed on current threats and population trends.
Taxonomic Notes
This species was previously within the genus Hyla but has recently been moved to the resurrected genus Hyloscirtus (Faivovich et al. 2005).
Citation
IUCN SSC Amphibian Specialist Group & NatureServe 2014. Hyloscirtus colymba. In: IUCN 2014
IUCN Terms of Use