Hypsiboas boans

family: Hylidae
subfamily: Hylinae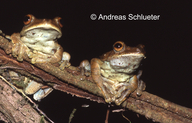 &copy 2006 Andreas Schlueter (1 of 27)

Conservation Status (definitions)
IUCN (Red List) Status
Least Concern (LC)
CITES
No CITES Listing

Other International Status
None
National Status
None
Regional Status
None
Range Description
This species is widely distributed in the Amazon basin, the upper Orinoco river, the delta of the Orinoco river, Trinidad island (not present on Tobago) Trinidad and Tobago, the Guianas, Peru, lowland tropical Bolivia, the Amazonian basin of Brazil, the Pacific lowlands of Colombia, Esmeraldas department, Ecuador and the central and eastern lowlands of Panama. In Venezuela, it has been recorded in the states of Amazonas, Bolívar and Delta Amacuro, as well as from the Andean foothills of Barinas and Táchira. It has been recorded between 0 and 1,000m asl.
Habitat and Ecology
It is a nocturnal species found in tropical rainforest, where it is found on trees up to a height of 5m. It is also found on bushes and trees in gallery forests, and it may use exposed bedrocks. The eggs are laid in mud basins, which are built by the males at the edge of watercourses or ponds (Duellman, 1997). The tadpoles are then washed into the river. During the dry season, they are active at night on sandy or muddy edges of slow-moving streams (Rodríguez and Duellman, 1994). It is not known if the species can adapt to habitat modification.
Population
It represents the only case of a disappearing population in the Amazon basin (Ducke Reserve, Manaus, Brazil), although it is abundant elsewhere.
Population Trend
Stable
Major Threats
There are no known threats to this species. It is sometimes found in the international pet trade but at levels that do not currently constitute a major threat.
Conservation Actions
Many populations are protected within National Parks and Biosphere Reserves. In Ecuador, its geographic range overlaps with Parque Nacional Yasuní, Reserva Biológica Limoncocha, Parque Nacional Sumaco Napo-Galeras and Reserva Ecológica Cotacachi-Cayapas. In Peru it can be found within the Manu Biosphere Reserve and Tambopata National Reserve. In Panama, it has been recorded from Parque Nacional Chagres and Parque Nacional Darién. In Guyana, it is known from the Mabura Hill Forest Reserve (Ernst et al., 2005).
Taxonomic Notes
This species was previously within the genus Hyla but has recently been moved to the resurrected genus Hypsiboas (Faivovich, et al., 2005). Hypsiboas boans from the Venezuelan Gran Sabana are smaller than those in the lowlands and do not construct basin-like nests; instead, they breed in small, permanent streams. Their discs more closely resemble those of Hypsiboas wavrini, and the tadpoles are also different. Duellman (1997) concluded that they might be specifically distinct from the widespread Hypsiboas boans in the lowlands.
Citation
Enrique La Marca, Claudia Azevedo-Ramos, Luis A. Coloma, Frank Solís, Roberto Ibáñez, César Jaramillo, Querube Fuenmayor, Santiago Ron, Jerry Hardy 2010. Hypsiboas boans. In: IUCN 2014
IUCN Terms of Use