Hypsiboas calcaratus
Convict Treefrog
family: Hylidae
subfamily: Hylinae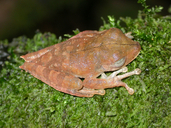 &copy 2006 Nathan Nazdrowicz (1 of 16)

Conservation Status (definitions)
IUCN (Red List) Status
Least Concern (LC)
CITES
No CITES Listing

Other International Status
None
National Status
None
Regional Status
None
Range Description
This species occurs in the Amazon Basin from southern Colombia and adjacent Ecuador south through Peru to northern Bolivia, the Guianas and the upper Orinoco Basin in Venezuela and Brazil. It generally occurs below 400m asl but can occur at up to 1,000m asl in Ecuador.
Habitat and Ecology
It inhabits the trees and branches of tropical rainforest. In the rainy season, nocturnal and arboreal adults are most commonly seen perched transversely on stems and small branches above slow moving streams (Rodríguez and Duellman, 1994). The eggs are laid in water, and the tadpoles also develop in water.
Population
It is abundant in much of its range, but it is uncommon in Suriname and Bolivia.
Population Trend
Stable
Major Threats
Forest conversion, logging, clear cutting and fire are threats to this species.
Conservation Actions
Conservation units are present within its range. In Ecuador, its geographic range overlaps with Reserva de Producción Faunística Cuyabeno, Parque Nacional Yasuní, Reserva Biológica Limoncocha, Parque Nacional Sumaco Napo-Galeras and Parque Nacional Podocarpus.
Taxonomic Notes
This species was previously within the genus Hyla but has recently been moved to the resurrected genus Hypsiboas (Faivovich, et al., 2005).
Citation
Claudia Azevedo-Ramos, Enrique La Marca, Luis A. Coloma, Santiago Ron 2010. Hypsiboas calcaratus. In: IUCN 2014
IUCN Terms of Use