Hypsiboas geographicus
Map Treefrog, rana geográfica
family: Hylidae
subfamily: Hylinae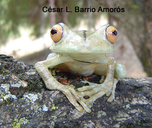 &copy 2004 César L. Barrio Amoros (1 of 34)

Conservation Status (definitions)
IUCN (Red List) Status
Least Concern (LC)
CITES
No CITES Listing

Other International Status
None
National Status
None
Regional Status
None
Range Description
This species occurs in tropical South America, east of the Andes, in Colombia, Venezuela, Trinidad island (Trinidad and Tobago), the Guianas, Ecuador, Peru, Bolivia, and Amazonian Brazil. It is generally found below 500m asl, but in Ecuador it occurs at up to 1,200m asl.
Habitat and Ecology
This nocturnal treefrog is found in trees and on branches along streams, open ponds, lakes and in gaps in primary forest (Duellman, 1978; Rodríguez and Duellman, 1994). It also occurs in flooded savannahs. Specimens can be found in disturbed areas such as gravel pits. In Brazil, it also occurs in Pantanal and Cerrado habitats. Reproduction takes place in permanent waterbodies. The eggs are laid in water, and the tadpoles, which are toxic to fish, develop in the water as well.
Population
It is abundant throughout most of its range.
Population Trend
Stable
Major Threats
There are no known threats to this species.
Conservation Actions
It is present in many protected areas. In Ecuador, its geographic range overlaps with Reserva de Producción Faunística Cuyabeno, Parque Nacional Yasuní, Reserva Biológica Limoncocha, Parque Nacional Sumaco Napo-Galeras, and Parque Nacional Sangay.
Taxonomic Notes
This species was previously within the genus Hyla but has recently been moved to the resurrected genus Hypsiboas (Faivovich, et al., 2005). This form is probably a complex of more than one species.
Citation
Claudia Azevedo-Ramos, Enrique La Marca, Luis A. Coloma, Santiago Ron, Jerry Hardy 2010. Hypsiboas geographicus. In: IUCN 2014
IUCN Terms of Use