Hypsiboas punctatus
Polka-dot Treefrog
family: Hylidae
subfamily: Hylinae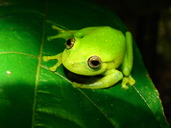 &copy 2007 German Chavez (1 of 45)

Conservation Status (definitions)
IUCN (Red List) Status
Least Concern (LC)
CITES


Other International Status
None
National Status
None
Regional Status
None
Country distribution from AmphibiaWeb's database: Argentina, Bolivia, Brazil, Colombia, Ecuador, French Guiana, Guyana, Paraguay, Peru, Suriname, Trinidad and Tobago, Venezuela
Range Description
This species occurs throughout the Amazon basin in South America, south to the Chaco region of Paraguay and along the banks of the Río Paraguay-Parana, Argentina. It is present on Trinidad island, Trinidad and Tobago. It is found from the lowlands to 1,400 m asl.
Habitat and Ecology
Individuals have been found in primary and secondary forest (Duellman, 1978), but it is usually found in grasses or bushes (leaves and branches) in flooded areas, seasonal swamps, slowly moving water, choked ditches or rivers. It is common to find it in pastures and fairly open country. The presence of this species might be associated with the plant Montrichardia arborescens. In the Iquitos region, Perú, this frog is common in permanent and semi permanent open ponds, where males call from water surface amidst grassy areas (Rodríguez and Duellman, 1994). Eggs and tadpoles develop in the water. It can occur in badly degraded habitats, rural gardens and sometimes in towns.
Population
It is a common species.
Population Trend
Stable
Major Threats
There are no major threats to this widespread species that has large areas of suitable habitat remaining. There is some localized habitat loss to general human activities such as logging and agriculture (crops, livestock etc.). It is sometimes found in the international pet trade but at levels that do not currently constitute a major threat.
Conservation Actions
It is present in numerous protected areas throughout its range.
Taxonomic Notes
This species was previously within the genus Hyla but has recently been moved to the resurrected genus Hypsiboas (Faivovich, et al., 2005). The taxonomy and synonymy of this name is convoluted and unstable. It certainly includes many species (Hoogmoed and Gruber, 1983). The name Hypsiboas hobbsi has been employed for Venezuelan specimens (e.g. McDiarmid and Paolillo, 1988).
Citation
Enrique La Marca, Norman Scott, Lucy Aquino, Claudia Azevedo-Ramos, Luis A. Coloma, Santiago Ron, Julian Faivovich, Diego Baldo, Jerry Hardy, César Luis Barrio Amorós 2010. Hypsiboas punctatus. In: IUCN 2014
IUCN Terms of Use