Ingerophrynus parvus
Lesser Toad, Kodok Puru Kerdil
family: Bufonidae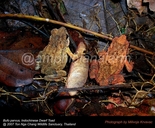 &copy 2011 Milivoje Krvavac (1 of 6)
| | |
| --- | --- |
| | hear call (633.5K MP3 file) |
Range Description
This species is found in western and Peninsular Thailand, Peninsular Malaysia, southern Myanmar and Indonesia (Sumatra, Pini and Java). There is an isolated subpopulation in southeastern Thailand and the Cardamom Mountains of Cambodia (Dring, 1979 and S. Swan pers. comm.). It does not occur in Singapore (Lim and Lim, 1992). It occurs up to 520 m asl.
Habitat and Ecology
It inhabits streams in primary and regenerating rainforest, mainly in lowlands. It has not been found in open areas outside forest. It breeds in forest pools and slow-moving streams where the larvae also develop.
Population
It is abundant in most areas of suitable habitat in mainland Southeast Asia. It is considered to be uncommon in Indonesia.
Population Trend
Unknown
Major Threats
There are no major threats to the survival of this species at present.
Conservation Actions
It occurs in a large number of protected areas, which should safeguard the survival of the species if current protection levels are at least maintained. It is protected by the WARPA 1992 law of Thailand.
Citation
IUCN SSC Amphibian Specialist Group 2014. Ingerophrynus parvus. In: IUCN 2014
IUCN Terms of Use