Litoria bicolor
Northern Dwarf Tree Frog, Green Reed Frog
family: Hylidae
subfamily: Pelodryadinae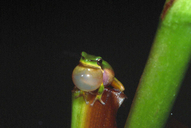 &copy 2004 Geordie Torr (1 of 12)
| | |
| --- | --- |
| | hear call (738.0K MP3 file) |
| | hear call (5419.1K WAV file) |
Range Description
This species is widespread in Australia, from the Kimberley zone of Western Australia through northern part of the Northern Territory and into northern Queensland and down the coast to Bowen in coastal Queensland. In the New Guinea region, it is known only from the Aru Islands including Naiguli and Terangan. There is some doubt regarding whether or not the specimens assigned to this species in the Aru Islands is actually another species.
Habitat and Ecology
This species is most abundant in grassland or marshy areas, often forming vast populations. It is found around permanent or semi-permanent streams, billabongs, and floodplains. Breeding begins with the summer rain. Males call from grass stems, bushes and small trees inundated by or surrounding water. About 10-20 eggs are laid in temporary pools in small clumps attached to submerged vegetation. Tadpoles metamorphose in 70-80 days.
Its habitat preferences on the Aru Islands are not known. If it presumed that, the habitat preferences are similar to that of the Australian populations and to other members of this species complex.
Population
The population status of the species in the Aru Islands is unknown.
Population Trend
Stable
Major Threats
Agriculture might pose a threat in Queensland. Sometimes individuals are relocated through transportation of fresh produce. There are no threats specifically known for this species on the Aru Islands, however the Aru Islands are being logged and cleared for agricultural land, which is most likely affecting the species' habitat.
Conservation Actions
The range of the species includes several protected areas in Australia. The taxonomic status and Extent of Occurrence of the southern New Guinea populations need to be determined.
Taxonomic Notes
The taxonomic status of the New Guinea populations referred to Litoria bicolor requires confirmation based on call structure or genetics (S. Richards pers. comm.).
Citation
Jean-Marc Hero, Paul Horner, Dale Roberts, Richard Retallick, Stephen Richards, Allen Allison 2004. Litoria bicolor. In: IUCN 2014
IUCN Terms of Use