Litoria fallax
Eastern Dwarf Tree Frog
family: Hylidae
subfamily: Pelodryadinae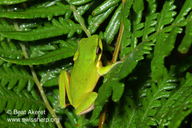 &copy 2008 Dr. Beat Akeret (1 of 13)
| | |
| --- | --- |
| | hear call (704.2K MP3 file) |
| | hear call (5174.4K WAV file) |
Range Description
This Australian species occurs along the coast and in adjacent areas from Cairns in northern Queensland south to southern New South Wales, including Fraser Island. It has been introduced to Guam (Christy et al. 2007). The extent of occurrence of the species is approximately 300,000 km².
Habitat and Ecology
It is usually found in vegetation bordering swamps, streams, lagoons, ponds and farm dams often in large numbers. In the day it shelters in the leaf-axils of Pandanus and emergent vegetation and or/nearby trees. It can be found well away from water/breeding sites. Breeding occurs throughout spring/summer, usually after rain. Small clumps of eggs are laid attached to submerged vegetation; larvae are free swimming.
Population
No population status information is currently available for this species.
Population Trend
Unknown
Major Threats
Loss of habitat and habitat degradation associated with development of infrastructure is a threat.
Conservation Actions
The range of the species includes several protected areas including Fraser Island National Park. It is sometimes bred in Australian zoos.
Citation
Hero, J.-M., Meyer, E. & Clarke, J. 2009. Litoria fallax. In: IUCN 2014
IUCN Terms of Use