Litoria gracilenta
Dainty Green Tree Frog
family: Hylidae
subfamily: Pelodryadinae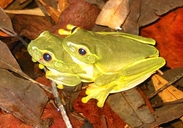 &copy 2003 Nathan Litjens (1 of 13)
| | |
| --- | --- |
| | hear call (803.2K MP3 file) |
| | hear call (5901.2K WAV file) |
Range Description
This Australian endemic occurs along the coast of Queensland and northern New South Wales. The extent of occurrence of the species is approximately 320,500km2. This species is commonly relocated in the transportation of fresh produce.
Habitat and Ecology
The species is found in moist forest or woodland habitats. It is also common in disturbed habitats such as fruit plantations. During winter it shelters in the crowns of trees well away from water. Breeds in spring and summer, usually in ephemeral waters. Eggs are attached to stems of grass in ponds. Tadpoles take about 14 weeks to mature. outside the breeding season it shelters in trees and low vegetation, sometimes some distance from water.
Population
This is a common species.
Population Trend
Stable
Major Threats
This species might be adversely affected by habitat loss/degradation associated with coastal development.
Conservation Actions
There are several protected areas within the range of this species.
Citation
Jean-Marc Hero, Ed Meyer, John Clarke 2004. Litoria gracilenta. In: IUCN 2014
IUCN Terms of Use