Litoria infrafrenata
White-lipped Tree Frog
family: Hylidae
subfamily: Pelodryadinae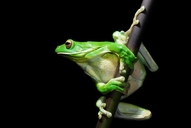 &copy 2010 Eric Vanderduys (1 of 22)
| | |
| --- | --- |
| | hear call (796.3K MP3 file) |
| | hear call (5851.8K WAV file) |
| | hear call (796.3K MP3 file) |
| | hear call (5849.5K WAV file) |
Range Description
This species occurs in Indonesia and East Timor on the islands of Timor and Karakelong (Talaud Group). In Australia this species is known from coastal and adjacent areas of northeastern Queensland, north of Townsville and extending around Cape York Peninsula and into the Gulf of Carpentaria. It is also widespread throughout the lowlands of New Guinea, and on the Maluku Islands to the west, and to the east as far as New Ireland in the Bismarck Archipelago. It occurs up to about 600m asl in New Guinea.
Habitat and Ecology
It inhabits a wide variety of habitats including tropical rainforest, monsoon woodlands, and wet sclerophyll forest. It persists in heavily modified environments including human habitation such as in gardens, within houses, parks, fields, agricultural areas, and roadsides and disturbed forest. It is usually active on warm and humid nights. Breeding is in the spring and summer, in forest pools, deep and slow streams, and in ditches and pools in disturbed (including urban) areas. Eggs are laid in clumps and tadpoles develop in about 8 weeks.
Population
This species is abundant throughout its range.
Population Trend
Stable
Major Threats
Loss of habitat through logging is a threat within its Australian range. It is sold for the pet trade in Indonesia and internationally, but this is unlikely to represent a threat to its survival. Impacts on local populations of the trade have not been documented.
Conservation Actions
There are no conservation measures needed. The range of the species includes a few protected areas, however in New Guinea these are in need of better management. The impacts of capture in Indonesia for the pet trade need to be assessed, but it is unlikely to be a threat to the species overall. It is often bred in captivity in Australian zoos.
Taxonomic Notes
This form might be a complex of more than one species (S. Richards pers. comm.).
Citation
Djoko Iskandar, Mumpuni, Jean-Marc Hero, Richard Retallick, Stephen Richards 2004. Litoria infrafrenata. In: IUCN 2014
IUCN Terms of Use