Litoria latopalmata
Broad-palmed Frog
family: Hylidae
subfamily: Pelodryadinae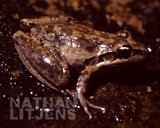 &copy 2005 Nathan Litjens (1 of 6)
| | |
| --- | --- |
| | hear call (804.5K MP3 file) |
| | hear call (5910.6K WAV file) |
Range Description
This Australian endemic occurs on the coast and in the interior of eastern Australia, from central Queensland to central New South Wales. The extent of occurrence of the species is approximately 1,542,000km2.
Habitat and Ecology
This species inhabits open forest, woodland, coastal and riverine floodplains, and is found in both dry inland and mesic coastal environs including near permanent or semi-permanent pools and billabongs. Breeding begins in spring when rain coincides with high temperatures, and continues to the end of summer. Males call from the edge of ephemeral and semi-permanent ponds. Eggs are laid in loose clumps amongst vegetation in shallow water. Tadpoles are free-swimming and development takes 50-90 days.
Population
Population Trend
Stable
Major Threats
Development and forestry in coastal and near-coastal areas are threats to the species' habitat.
Conservation Actions
The range of the species includes a number of protected areas.
Citation
Jean-Marc Hero, Ed Meyer, John Clarke, Richard Retallick 2004. Litoria latopalmata. In: IUCN 2014
IUCN Terms of Use