Litoria lesueurii
Lesueur's Frog
family: Hylidae
subfamily: Pelodryadinae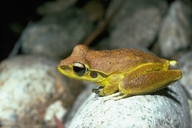 &copy 2002 Jean-Marc Hero (1 of 20)
| | |
| --- | --- |
| | hear call (842.1K MP3 file) |
| | hear call (6188.2K WAV file) |
| | hear call (813.3K MP3 file) |
| | hear call (5976.5K WAV file) |
Range Description
This species is endemic to southeast Australia, from southeastern New South Wales to eastern Victoria.
Habitat and Ecology
Mostly found in a wide range of habitats, usually along rocky streams. Males are often found some distance from water. It also utilizes pastoral lands. Males begin calling late in August (end winter) through to the end of February (summer), in warmer climates they may call through to the beginning of May. Oviposition occurs in streamside pools and backwaters. Eggs adhere to submerged rocks and sediment; larvae are free-swimming.
Population
It is locally abundant. However, declines were recorded in high-altitude forests of northeastern New South Wales.
Population Trend
Decreasing
Major Threats
Fairly resilient to alterations in habitat as they are frequently found along streams bordering urban and farming areas. Specimens have, however, been found infected with a chytrid fungus.
Conservation Actions
The range of the species includes several protected areas. Recently it has sometimes been bred in captivity in Melbourne Zoo.
Taxonomic Notes
Litoria jungguy and L. wilcoxii were separated from this species by Donnellan and Mahony (2004). We follow Cogger, Cameron and Cogger (1983) in considering Litoria vinosa and L. kinghorni to be synonyms of this species.
Citation
Jean-Marc Hero, Ed Meyer, John Clarke 2004. Litoria lesueurii. In: IUCN 2014
IUCN Terms of Use