Litoria revelata
Whirring Tree Frog
family: Hylidae
subfamily: Pelodryadinae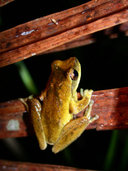 &copy 2012 Jodi J. L. Rowley (1 of 7)
| | |
| --- | --- |
| | hear call (1108.6K MP3 file) |
| | hear call (8145.0K WAV file) |
Range Description
There are three known populations of this Australian endemic species, one in the Atherton Tablelands in northeastern Queensland, one in the Clarke Range in mid-eastern Queensland and one occurring from Mount Tamborine (Southeast Queensland) to Ballina northeastern New South Wales. The extent of occurrence of the species is approximately 190,000km2.
Habitat and Ecology
This species is found from coastal swamps and ponds to montane rainforests. It is a spring and summer breeder. It breeds in still water (swamps and ponds) where males call from reeds and grasses around or in water; larvae are free-swimming. It is also found in pastureland.
Population
This species is locally abundant. There is no information on population size and structure. There have been no recorded declines.
Population Trend
Stable
Major Threats
Some sites continue to be disturbed through clearing, timber harvesting and associated activities and cattle grazing. Although the species is quite frequently detected at disturbed sites, like farm dams, the viability of these populations is unknown as are the impacts of disturbance on the species.
Conservation Actions
Listed as rare in Queensland and protected in southeast Queensland where some of its habitat occurs in Lamington National Park. Its range includes a few other protected areas as well.
Taxonomic Notes
We follow Cogger, Cameron and Cogger (1983) in considering Litoria corbeni to be a synonym of this species.
Citation
Jean-Marc Hero, Ed Meyer, John Clarke 2004. Litoria revelata. In: IUCN 2014
IUCN Terms of Use