Litoria rubella
Desert Tree Frog
family: Hylidae
subfamily: Pelodryadinae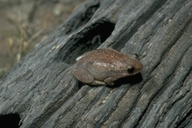 &copy 2002 Jean-Marc Hero (1 of 6)
| | |
| --- | --- |
| | hear call (620.8K MP3 file) |
| | hear call (4560.6K WAV file) |
Range Description
This species is widespread across most of Australia except the extreme south. It is also known from several locations in the southern savannahs of western Papua New Guinea, including Daru Island, and Timor island in East Timor and Indonesia. It has not yet been recorded from the Indonesian side of New Guinea. All records are from below 50m in New Guinea. It has an estimated altitudinal range of 0-500m asl, possibly even as high as 1,000m asl in Australia.
Habitat and Ecology
It occurs in a wide range of habitats, from eastern coastal forest to desert, generally associated with more open vegetation (ie. open forest/woodland). In inland regions it is largely confined to ranges or larger watercourses. It is usually found in trees and shrubs beside watercourses, temporary or permanent swamps and lagoons. It also makes use of water pipes in houses and buildings. It avoids extreme temperatures by sheltering beneath stones, bark, logs, buildings etc. In Australia it breeds after the summer rains. Males call from the ground in open grassy areas near water. The spawn clumps of 40-300 eggs are laid on the surface of static water. Larval life is brief, lasting only 2-4 weeks (shorter where the temperature is high). In Papua New Guinea it lives in open, savannah habitats and human-made grasslands. It breeds in temporary pools, and human-made ditches, and drains.
Population
It is common where it is found in New Guinea, and also in Australia, but there is no information on population for Timor.
Population Trend
Stable
Major Threats
There are no known major threats to this species. Within parts of the species' range in Australia there is some habitat loss in coastal areas due to human settlement, and in inland areas there is some habitat loss/degradation associated with agro-industry farming.
Conservation Actions
It is known to occur in several protected areas in Australia.
Citation
Djoko Iskandar, Mumpuni, Jean-Marc Hero, Dale Roberts, Paul Horner, Richard Retallick, Ed Meyer, John Clarke, Stephen Richards, Fred Parker 2004. Litoria rubella. In: IUCN 2014
IUCN Terms of Use