Nectophrynoides tornieri
Tornier's Forest Toad, Kijula
family: Bufonidae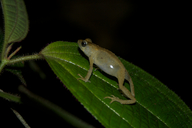 &copy 2011 Iris Starnberger (1 of 2)

Conservation Status (definitions)
IUCN (Red List) Status
Least Concern (LC)
CITES
Appendix I

Other International Status
None
National Status
None
Regional Status
None
Range Description
This species occurs in the Usambara, Uluguru, Nguru, Ukaguru, Mahenge and Udzungwa Mountains, and on Mount Rungwe, in eastern and southern Tanzania. It occurs from 300m (Kimboza Forest in the Uluguru foothills) up to at least 1,800m asl. This species will probably be eventually found throughout the Eastern Arc mountain chain. Some records from the West Usambara Mountains, and some of the specimens from the Uluguru Mountains, which are both included here, probably represent two undescribed species.
Habitat and Ecology
It lives in lowland and montane forest, and is found low in the vegetation and on the ground. It can tolerate some disturbance to its habitat, and can survive in banana plantations, but probably not in very open areas. It breeds by internal fertilization, the females retaining the larvae internally in the oviduct until little toadlets are born.
Population
It is one of the most abundant amphibian species in the overall Eastern Arc mountain range.
Population Trend
Unknown
Major Threats
Its habitat is probably being lost, especially at lower altitudes, due to agricultural encroachment, wood extraction and expanding human settlements. Its habitat in the East Usambaras has recently come under serious threat as a result of the activities of illegal gold miners.
Conservation Actions
It occurs in the Udzungwa National Park and the Amani Nature Reserve. It is listed on CITES Appendix I.
Citation
Simon Loader, John Poynton, Kim Howell 2004. Nectophrynoides tornieri. In: IUCN 2014
IUCN Terms of Use