Oophaga granulifera
Granular Poison Frog
family: Dendrobatidae
subfamily: Dendrobatinae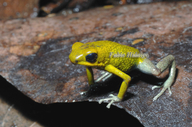 &copy 2013 Fabio Hidalgo (1 of 26)
| | |
| --- | --- |
| | hear call (668.5K WAV file) |
Range Description
This species occurs in the lowlands of south-western Costa Rica, adjacent south-western Panama, and possibly in south-eastern Costa Rica, from 20-100m asl.
Habitat and Ecology
A diurnal, terrestrial species most often found in relatively undisturbed humid lowland forest, but also recorded from secondary forest and plantations. Eggs are deposited on the forest floor and the female transports the tadpoles to bromeliads to complete metamorphosis.
Population
It is common in Costa Rica.
Population Trend
Decreasing
Major Threats
The major threat is habitat loss due to agriculture, selective logging, and human settlement. The current level of offtake of specimens for the international trade is unknown.
Conservation Actions
It is present in several protected areas, including Parque Nacional Corcovado.
Citation
Solís, F., Ibáñez, R., Chaves, G., Savage, J., Jaramillo, C., Fuenmayor, Q. & Bolaños, F. 2008. Oophaga granulifera. In: IUCN 2014
IUCN Terms of Use