Osteopilus septentrionalis
Cuban Treefrog
family: Hylidae
subfamily: Hylinae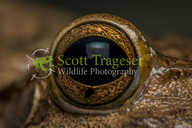 &copy 2013 Scott Trageser (1 of 35)

Conservation Status (definitions)
| | |
| --- | --- |
| IUCN (Red List) Status | Least Concern (LC) |
| NatureServe Status | Use NatureServe Explorer to see status. |
| CITES | No CITES Listing |
| Other International Status | None |
| National Status | None |
| Regional Status | None |
Range Description
This species occurs on Cuba, the Isla de Juventud (Cuba), Archipelago de los Canarreos (Cuba), the Archipelago de Sabana-Camaguey (Cuba), Cayos de San Felipe (Cuba), the Cayman Islands, and the following places in the Bahamas: Little and Great Bahamas Banks, Long Island, Cat Island, Conception Island, Rum Cay, San Salvador, Crooked-Acklands Bank, and Great Inagua Island. It is introduced on Puerto Rico, the US Virgin Islands (St. Croix, St John, St Thomas), Tortola, Virgin Gorda, Beef Island and Peter Island (British Virgin Islands), the Turks and Caicos Islands, the Florida Keys and mainland Florida (USA), Hawaii (USA), Anguilla, St Martin (France portion, not yet in Netherlands portion), St Barthelemy, Bonaire, and Limon, Costa Rica (Gerardo Chaves pers. comm.). It occurs from sea level up to 1,110m asl.
Habitat and Ecology
It generally inhabits mesic habitats but may be found in xeric habitat in the Bahamas, living in all kinds of disturbed habitats, including towns and houses. It is also present in forests, mangroves and coastal areas. It can also tolerate brackish water. It is found on the ground and on tree trunks. Males call from vegetation near pooled rainwater. Eggs are laid in still water, including pools, marshes, flood pastures, and ditches. It is competing with other species, and predates native amphibians in the wild. It might also be a vector for pathogens.

Breeding events have been found to last only one night and male mating behavior changes from acoustic competition to scramble searching over the breeding event. Most males have similar opportunities to mate with a female, and there doesn't appear to be a direct adaptive benefit for high mating selectivity by females, which can increase the invasive capacity of O. septentrionalis (Vargas Salinas, 2006).
Population
It is an extremely abundant species. It is spreading rapidly, with frequent new island records (Perry and Gerber, 2006).
Population Trend
Increasing
Major Threats
There are no threats to this species. The species' diet suggests that it could severely impact native species, and its tadpoles impact those of some native anurans (see Perry and Gerber, 2006).
Conservation Actions
It occurs in many protected areas.
Citation
Blair Hedges, Luis Díaz, Beatrice Ibéné, Rafael Joglar, Robert Powell, Federico Bolaños, Gerardo Chaves 2010. Osteopilus septentrionalis. In: IUCN 2014
IUCN Terms of Use