Peltophryne peltocephala
Sapo Timbalero, Sapo
family: Bufonidae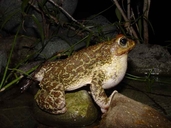 &copy 2009 Ariel Rodriguez (1 of 5)

Conservation Status (definitions)
IUCN (Red List) Status
Least Concern (LC)
CITES
No CITES Listing

Other International Status
None
National Status
None
Regional Status
None
Range Description
This species is found in central and eastern Cuba and the Isla de la Juventud. It has been recorded from sea level up to 410m asl.
Habitat and Ecology
It occurs along stream banks and under rocks in various habitats such as broadleaf forest, grassland, savannah and agricultural areas. It was found to use coastal xeromorphic scrub habitat only temporarily (Fong, 2007). It can occur in disturbed habitats as long as the freshwater body remains undisturbed. Males call at creek sides. Eggs are laid in still water, where the tadpoles also develop. In some regions it can be an explosive breeder.
Population
It is a common species.
Population Trend
Stable
Major Threats
Localized threats to this species include intensive agriculture, cattle grazing and agricultural pesticides; however, it is adaptable, and it is not believed to be significantly threatened.
Conservation Actions
Its range includes several protected areas, although these areas do not provide sufficient protection for the species.
Citation
Blair Hedges, Luis Díaz 2010. Peltophryne peltocephala. In: IUCN 2014
IUCN Terms of Use