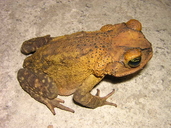 &copy 2007 Ansel Fong (1 of 2)

Conservation Status (definitions)
IUCN (Red List) Status
Vulnerable (VU)
CITES
No CITES Listing

Other International Status
None
National Status
None
Regional Status
None
Range Description
This species is found in central and eastern Cuba from sea level up to 560m asl.
Habitat and Ecology
It is found in lowland mesic broadleaf forests and cultivated fields (providing farming is not too intensive). Males call in streams and shallow creeks, and eggs are laid in permanent water.
Population
It is very common in suitable habitat.
Population Trend
Decreasing
Major Threats
The major threat to this species is habitat loss due to intensive agriculture (livestock, sugarcane), charcoaling, and nickel mining. Pollution from agricultural pesticides is also a threat.
Conservation Actions
This species occurs in many protected areas.
Citation
Blair Hedges, Luis Díaz 2004. Peltophryne taladai. In: IUCN 2014
IUCN Terms of Use