Phyllomedusa camba

family: Hylidae
subfamily: Phyllomedusinae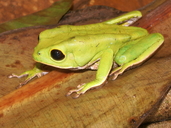 &copy 2010 Robson W. Ávila (1 of 6)

Conservation Status (definitions)
IUCN (Red List) Status
Least Concern (LC)
CITES
No CITES Listing

Other International Status
None
National Status
None
Regional Status
None
Range Description
This species is found in the Southwestern Amazon Basin from southeastern Peru (Departments of Madre de Dios and Ucayali); western Brazil (States of Amazonas, Acre, and Rondonia) through northern and eastern Bolivia (Departments of Pando, Beni, Cochabamba, La Paz, and Santa Cruz). It is present at 450m asl.
Habitat and Ecology
It is present in primary lowland tropical moist forest, secondary forest and also disturbed open areas. Foam nests are made on leaves above pools, the tadpoles fall from these into the water.
Population
It is a very common species.
Population Trend
Stable
Major Threats
Because of the large areas of suitable habitat still available to this species there are no major threats.
Conservation Actions
Present in Parque Nacional Manu in Peru, and numerous protected areas in Bolivia, and presumably Brazil.
Citation
Ignacio De la Riva, Karl-Heinz Jungfer, Ariadne Angulo, Steffen Reichle 2004. Phyllomedusa camba. In: IUCN 2014
IUCN Terms of Use