Phyllomedusa palliata

family: Hylidae
subfamily: Phyllomedusinae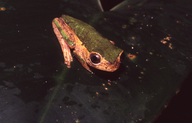 &copy 2006 Andreas Schlueter (1 of 14)

Conservation Status (definitions)
IUCN (Red List) Status
Least Concern (LC)
CITES
No CITES Listing

Other International Status
None
National Status
None
Regional Status
None
Range Description
This species is known from the upper Amazon basin in Ecuador, the lowlands east of the Andes in the Departments of Huánuco, Loreto, Ucayali and Madre de Dios, Peru; northern Bolivia and western Brazilian Amazonia. It has an altitudinal range of 100m to 400m asl.
Habitat and Ecology
It is usually found on trees around temporary pools in lowland primary and secondary tropical rainforest and forest-edge habitats. The eggs are deposited on leaves and the tadpoles develop in temporary waterbodies. It can be found in modified habitats at the forest edge.
Population
It is a common species.
Population Trend
Stable
Major Threats
There are no major threats, it is a widespread species with large areas of suitable habitat remaining. There is some localized habitat loss to general human activities such as logging and agriculture (crops, livestock etc.).
Conservation Actions
In Peru this species is known to occur in Parque Nacional Manu and Tambopata National Reserve, and might also occur in Allpahuayo Mishana Reserved Zone, Pacaya Samiria National Reserve, Alto Purus Reserved Zone and Bahuaja Sonene National Park, Peru. It is present in many Brazilian protected areas and presumably in protected areas in Ecuador and Bolivia.
Citation
Ariadne Angulo, Claudia Azevedo-Ramos, Luis A. Coloma, Santiago Ron, Marinus Hoogmoed, Claude Gascon, Javier Icochea, Diego Cisneros-Heredia 2004. Phyllomedusa palliata. In: IUCN 2014
IUCN Terms of Use