Pseudacris crucifer
Spring Peeper, Southern Spring Peeper, Northern Spring Peeper
family: Hylidae
subfamily: Hylinae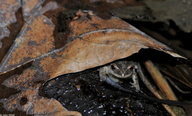 &copy 2008 John White (1 of 74)
| | |
| --- | --- |
| | hear call (161.0K MP3 file) |
| | hear call (161.0K MP3 file) |
| | hear call (127.6K WMA file) |
Range Description
This species occurs throughout the eastern USA and adjacent eastern Canada (east to Labrador; Bergman 1999), west to Manitoba, Minnesota, Iowa, eastern Kansas, Oklahoma, and eastern Texas (Conant and Collins 1991). It is absent from southern Florida. It was formerly believed to have been introduced in Cuba (Schwartz and Henderson 1991), but it has not been found there (Powell and Henderson 1999).
Habitat and Ecology
Typically it is found in moist wooded areas, especially near breeding pools. The species is mostly terrestrial and it hides under logs, rocks or other objects when inactive. Eggs are laid and larvae develop in small temporary or permanent waters of ponds (including those in fields with nearby forest), marshes, ditches and swamps, especially those with standing plants, sticks or other debris. Males call usually from among herbaceous vegetation adjacent to or standing in water. In northern Minnesota, successful reproduction in acidic bog water either does not occur or is a rare event (Karns 1992).
Population
There are thousands of sub-populations and millions of individuals, and the population is thought to be stable.
Population Trend
Stable
Major Threats
Wetland drainage reduces the available habitat. Although the species does not thrive in areas of urbanization and intense agriculture, it is moderately adaptable and not considered to face any major threats on a global scale.
Conservation Actions
HTML::Element=HASH(0x35c0a30)
Citation
IUCN SSC Amphibian Specialist Group 2015. Pseudacris crucifer. In: IUCN 2014
IUCN Terms of Use