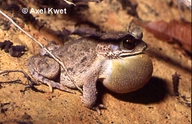 &copy 2004 Dr. Axel Kwet (1 of 25)

Conservation Status (definitions)
IUCN (Red List) Status
Least Concern (LC)
CITES
No CITES Listing

Other International Status
None
National Status
None
Regional Status
None
Range Description
This species occurs throughout much of the Amazonian Basin, from Western Pacific lowlands, central Panama and eastern lowlands adjacent to central Panama, through the Guianas, south through the Orinoco and Caribbean regions of Colombia, Margarita Island (Venezuela), Bolivian lowlands, throughout much of Brazil, northwestern Paraguay and northern Argentina. It is not present in Trinidad and Tobago, Ecuador, Peru or Uruguay. Altitudinal range is up to 1,500m asl.
Habitat and Ecology
This taxon mainly inhabits open areas, savannahs, forests, river shorelines, and reproduces explosively in permanent and temporary waterbodies. By day, specimens hide in holes in the ground. Its presence in forests is apparently due to colonization of intervened habitats along roads and penetration tracks; it has been reported from urban areas in Bolivia. Breeding and larval development takes place in ponds. It can be found breeding in very small and shallow puddles (Lynch, 2006). Time of larvae development is 30 days. It feeds on ants and termites.
Population
This is a very common species.
Population Trend
Stable
Major Threats
There are no major threats to this adaptable species. It is sometimes found in the international pet trade but at levels that do not currently constitute a major threat.
Conservation Actions
It is in protected areas throughout most of its range.
Taxonomic Notes
Considerable evidence suggests that this nominal species is composed of several biological species.
Citation
Débora Silvano, Claudia Azevedo-Ramos, Enrique La Marca, Patricia Narvaes, Ismael di Tada, Diego Baldo, Frank Solís, Roberto Ibáñez, César Jaramillo, Querube Fuenmayor, Jerry Hardy 2010. Rhinella granulosa. In: IUCN 2014
IUCN Terms of Use