Scinax elaeochrous
Olive tree frog
family: Hylidae
subfamily: Hylinae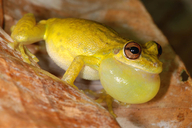 &copy 2007 Twan Leenders (1 of 20)

Conservation Status (definitions)
IUCN (Red List) Status
Least Concern (LC)
CITES
No CITES Listing

Other International Status
None
National Status
None
Regional Status
None
Range Description
This species occurs in humid lowlands and lower premontane forests from eastern Nicaragua to northwestern Panama on the Atlantic versant and on the Pacific slope from the Río Barranca drainage of central Costa Rica to southwestern Panama. There is also isolated population at Bajo Calima in the Pacific lowlands of Colombia. It occurs from sea level to 1,200m, mostly below 700m. Records of Scinax quinquefasciata from Colombia might be referable to this species.
Habitat and Ecology
It is primarily a nocturnal species of lowland, and marginally montane, tropical forest. It can also be found in secondary and disturbed forest habitats. It breeds in temporary ponds during the wet season. Eggs are laid in the pond, or on adjacent vegetation, and the larvae develop in the ponds.
Population
It is a very common species.
Population Trend
Stable
Major Threats
The major threats are likely to be severe deforestation for agricultural development, plantations, logging, and human settlement, and pollution resulting from the use of agro-chemicals. Although it is somewhat adaptable, it probably cannot tolerate the opening up of the habitat on a large scale.
Conservation Actions
It has been recorded from several protected areas.
Taxonomic Notes
The relationship between this species and Scinax quinquefasciata needs to be investigated; they might be conspecific (K.-H. Jungfer pers. comm.). This taxon was misspelt in earlier versions of the GAA as Scinax elaeochraoa, it is corrected in this version (August, 2007).
Citation
Solís, F., Ibáñez, R., Jaramillo, C., Chaves, G., Savage, J., Köhler, G., Jungfer, K., Bolívar, W. & Bolaños, F. 2008. Scinax elaeochrous. In: IUCN 2014
IUCN Terms of Use