Scinax garbei

family: Hylidae
subfamily: Hylinae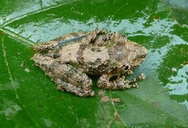 &copy 2012 Eleanor Warren-Thomas (1 of 20)

Conservation Status (definitions)
IUCN (Red List) Status
Least Concern (LC)
CITES
No CITES Listing

Other International Status
None
National Status
None
Regional Status
None
Range Description
This species is present in the middle and upper Amazon Basin in Brazil, Venezuela (Amazonas state), Colombia, Ecuador, Peru and Bolivia. It occurs up to 1,000m asl in Ecuador.
Habitat and Ecology
This species can be found in primary and secondary tropical rainforests, flooded forest, edges, and even cultivated lands, with reproduction in ponds and temporary watercourses. It has been reported perched head down on Heliconia plants, shrubs and trees close to water (De la Riva 1993). It is usually found around temporary waterbodies and its edge. Eggs and tadpoles can be found in the water.
Population
It is a common species. S. garbei seemed to become more common as forest was cut at Santa Cecilia, Ecuador (Duellman, 1978). It is not a common species in the primary forest at Cusco Amazónico, Perú, where solitary individuals were found throughout the year, but more commonly in the rainy season, on leaves and stems of bushes, palm fronds, and tree trunks 0.4-1.5m above the ground at night (Duellman and Wiens, 1993).
Population Trend
Stable
Major Threats
There are no threats. It is an adaptable species.
Conservation Actions
The range of this species includes several protected areas. Venezuelan populations occur in a major Biosphere Reserve. In Ecuador, its geographic range overlaps with Reserva de Producción de Faunística Cuyabeno, Reserva Biológica Limoncocha, and Parque Nacional Yasuní.
Taxonomic Notes
Some specimens of this taxon in Venezuela have been referred to as Hyla boulengeri and H. garbei.
Citation
Enrique La Marca, Claudia Azevedo-Ramos, Luis A. Coloma, Santiago Ron 2004. Scinax garbei. In: IUCN 2014
IUCN Terms of Use