Scinax ruber

family: Hylidae
subfamily: Hylinae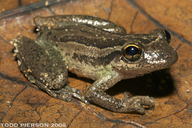 &copy 2011 Todd Pierson (1 of 27)

Conservation Status (definitions)
IUCN (Red List) Status
Least Concern (LC)
CITES
No CITES Listing

Other International Status
None
National Status
None
Regional Status
None
Range Description
This species is present in Mesoamerica, in the Cerro Campana and Rio Trinidad, central Panama and eastern lowlands of Darien Province (Panama). In South America the species is widespread throughout the Amazon basin (also occurring in the Guianan Shield and on Trinidad and Tobago) and might be found from sea level to around 2,600m asl. It has been introduced to northern Puerto Rico, Martinique and Saint Lucia.
Habitat and Ecology
This large, arboreal, nocturnal frog inhabits a vast array of habitats, from open environments to moist forests. In the Gran Sabana region of southeastern Venezuela, males have been found calling from the ground and low vegetation around temporary ponds in the forest, and amplectant pairs were on low vegetation. Scinax ruber is a "pest" species primarily inhabiting cleared areas in the rainforest. This species generally breeds in small temporary pools. In cultivated areas, the species breeds in roadside ditches and shallow, temporary ponds. Animals have been recorded in modified environments such as gardens and parks (Duellman and Wiens, 1993).
Population
This is a common species that is abundant in temporary waterbodies during the rainy season.
Population Trend
Stable
Major Threats
There are no major threats to this very adaptable species.
Conservation Actions
It is present in many protected areas throughout its range and is very tolerant of human settlement.
Taxonomic Notes
This form is probably a complex of more than one species. Lynch (2006) suggests that it is probable that Scinax ruber is being confused with Scinax x-signatus in the Villavicencio region of Colombia.
Citation
Frank Solís, Roberto Ibáñez, César Jaramillo, Querube Fuenmayor, Claudia Azevedo-Ramos, Enrique La Marca, Luis A. Coloma, Santiago Ron, Jerry Hardy, Blair Hedges, Beatrice Ibéné, Michel Breuil, Robert Powell 2010. Scinax ruber. In: IUCN 2014
IUCN Terms of Use