Sclerophrys maculata
Flat-backed Toad
family: Bufonidae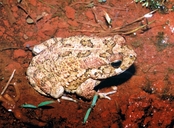 &copy 2011 Martin Pickersgill (1 of 25)
| | |
| --- | --- |
| | hear call (239.5K MP3 file) |
| | hear call (2629.3K WAV file) |
Range Description
This species occurs very widely in humid savannah and savannah- forest transition zones from Sierra Leone, Guinea and Liberia eastwards to western Ethiopia and southwards to Swaziland and the northern regions of South Africa, Botswana and Namibia. There do not appear to be records from Mali, Togo, Equatorial Guinea, Chad, Sudan, Rwanda and Burundi, though it presumably occurs in these countries. It probably occurs more widely in the Democratic Republic of Congo than is mapped. It occurs up to 1,700m asl in South Africa, and probably higher in East Africa.
Habitat and Ecology
It is a species of humid savannahs, forest edges and degraded forest, extending into drier savannahs along rivers. It is also found in agricultural land. It breeds in rivers and streams in savannah areas and in temporary ponds and ditches, especially in the forest zone.
Population
It is very common in many parts of its range.
Population Trend
Stable
Major Threats
Some populations of this species are no doubt affected environmental degradation, resulting from the expansion of human settlement. However, it is widespread and adaptable and is not seriously at risk.
Conservation Actions
It occurs in many protected areas.
Citation
Mills Tandy, Mark-Oliver Rödel, Alan Channing, Kim Howell, Leslie Minter, John Poynton, Malcolm Largen 2004. Amietophrynus maculatus. In: IUCN 2014
IUCN Terms of Use