Sclerophrys regularis
Common African toad
family: Bufonidae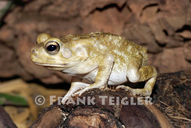 &copy 2007 Frank Teigler (1 of 23)
| | |
| --- | --- |
| | hear call (361.1K MP3 file) |
| | hear call (998.5K WAV file) |
Range Description
This very widely distributed African species ranges from Senegal to Nilotic Egypt, Sudan and Ethiopia, southwards to western Democratic Republic of Congo, including Congo Basin, northwestern Angola, Uganda and central-southern Kenya. The boundary between this species and Bufo gutturalis in Democratic Republic of Congo, Angola, Kenya, Uganda and Tanzania is poorly understood, and the map should be regarded as provisional. There do not appear to be records from Mauritania, Togo, Equatorial Guinea, Djibouti and Burundi, but it is likely to occur in these countries, and also in the northwestern part of Tanzania. Records from Eritrea pre-date the descriptions of B. asmarae and B. xeros, but it is possible that the species occurs in the western part of the country. Early records of this species from the Ghat region of southern Libyan Arab Jamahiriya, Algeria and northern Niger are thought to refer to Bufo xeros and are not mapped here (see Schleich et al., 1996 for further details). It is introduced to the Cape Verde Islands. It occurs from near sea level up to 2,500 m asl.
Habitat and Ecology
It lives in both moist and dry savannahs, montane grassland, forest margins and agricultural habitats, often in association with rivers. Its range appears to be restricted by increasing aridity, and in drier areas, away from permanent water, it is replaced by species such as Bufo garmani and B. xeros. Its occurrence is very patchy in the forest zone and it even avoids secondary forest, but lives in degraded habitats and towns (including gardens) in the forest zone. It breeds in rivers, making use of shallow areas on the edges, away from the main current.
Population
It is a very abundant species.
Population Trend
Stable
Major Threats
It is a very adaptable species that is not facing any significant threats. In Egypt, the range of the species is increasing with the development of irrigation schemes (S. Baha El Din pers. comm.).
Conservation Actions
It occurs in many protected areas.
Taxonomic Notes
Amietophrynus chudeaui (Chabanaud, 1919), which is known only from inadequate postmetamorphic material (rendering it a nomen dubium) from Mali could belong to this species (Tandy and Feener 1985). The taxon is likely comprised of a complex of species (V. Gvozdik pers.comm. November 2012).
Citation
IUCN SSC Amphibian Specialist Group 2014. Amietophrynus regularis. In: IUCN 2014
IUCN Terms of Use