Smilisca baudinii
Mexican Treefrog, Mexican Smilisca
family: Hylidae
subfamily: Hylinae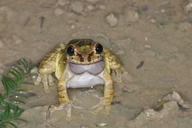 &copy 2012 Dr. Peter Janzen (1 of 60)

Conservation Status (definitions)
| | |
| --- | --- |
| IUCN (Red List) Status | Least Concern (LC) |
| NatureServe Status | Use NatureServe Explorer to see status. |
| CITES | No CITES Listing |
| Other International Status | None |
| National Status | None |
| Regional Status | vulnerable in Texas |
Range Description
This species geographic range is from the Atlantic and pacific versants, from the Rio Grande embayment in extreme southern Texas, U.S.A. southward to Costa Rica, including the Yucatan Peninsula. In the Pacific, it occurs from southern Sonora southward to central Costa Rica (0-1,610m asl).
Habitat and Ecology
It can be found in lowlands and foothills; xerophytic vegetation and savannahs in semiarid regions in north, humid evergreen forest in Caribbean lowlands of Central America; gardens with pools. It can also be found in the vicinity of ponds, pools, canals, and flooded fields (Bartlett and Bartlett, 1999). It hides underground, under tree bark, in leaf axils, or in tree holes when inactive. It breeds in ponds.
Population
It is widespread and abundant in Middle America.
Population Trend
Stable
Major Threats
This is a well-preserved species that can survive even associated with human settlements and altered habitats.
Conservation Actions
The species doesn't need any particular protection measure. It occurs in many protected areas.
Citation
Georgina Santos-Barrera, Geoffrey Hammerson, Gerardo Chaves, Larry David Wilson, Federico Bolaños, Paulino Ponce-Campos 2010. Smilisca baudinii. In: IUCN 2014
IUCN Terms of Use