Smilisca phaeota
Masked Tree Frog, Central American Smilisca, Tarraco Treefrog
family: Hylidae
subfamily: Hylinae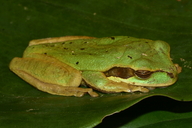 &copy 2006 William Flaxington (1 of 55)
| | |
| --- | --- |
| | hear call (893.9K WAV file) |
Range Description
This species occurs on the Atlantic slope of northeastern Honduras, through Nicaragua, Costa Rica and Panama to northern Colombia; and on the Pacific versant from central Costa Rica to southwestern Panama and from El Valle de Anton, Cocle Province, Panama, to Colombia. In South America, it occurs in the Pacific lowlands of Colombia and western Ecuador, and around the northern slopes of the Western and Central Cordilleras in Colombia to the Middle Magdalena Valley. It occurs from sea level up to at least 1,600m asl (Costa Rica).
Habitat and Ecology
It inhabits humid lowland forest, where usually they are found in secluded sites at the edge of, or in, shallow temporary pools and occasionally at the edges of streams or large ponds. It tolerates substantial forest disturbance, and lives on forest edge and in open country, even where there are few trees. It breeds in small, usually temporary pools, even in footprints of cattle, and avoids larger ponds as breeding sites.
Population
This is an abundant species throughout its range.
Population Trend
Stable
Major Threats
It is not facing any significant threats.
Conservation Actions
It occurs in many protected areas.
Citation
Solís, F., Ibáñez, R., Chaves, G., Wilson, L.D., Morales, M., Lynch, J. & Bolaños, F. 2008. Smilisca phaeota. In: IUCN 2014
IUCN Terms of Use