Smilisca sordida
Drab Treefrog
family: Hylidae
subfamily: Hylinae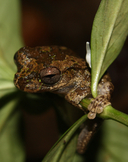 &copy 2014 Eduardo Boza Oviedo (1 of 23)

Conservation Status (definitions)
IUCN (Red List) Status
Least Concern (LC)
CITES
No CITES Listing

Other International Status
None
National Status
None
Regional Status
None
Range Description
This species ranges from northeastern Honduras to northwestern Panama on the Atlantic slope; and on the Pacific slope in southwestern Costa Rica and adjacent western Panama and El Valle de Anton, Cocle Province, in west-central Panama. There is an isolated record from the middle Magdalena Valley in Santander Department, Colombia (that might eventually prove to be a separate species). It occurs from sea level to 1,525m asl.
Habitat and Ecology
It inhabits humid lowland and montane forest in the vicinity of rocky streams where it reproduces. It can tolerate substantial disturbance of its habitat, and is found in plantations and urban areas.
Population
This is a common species throughout its range.
Population Trend
Stable
Major Threats
It is not facing any significant threats.
Conservation Actions
It occurs in many protected areas.
Taxonomic Notes
It is not clear that records from Colombia refer to the same species as those in Central America, in part, because of the large gap in the distribution (K.-H. Jungfer pers. comm.). It is possible that this is a complex of two or three species (Federico Bolaños pers. comm.).
Citation
Frank Solís, Roberto Ibáñez, Gerardo Chaves, Larry David Wilson, Karl-Heinz Jungfer, Federico Bolaños, Javier Sunyer 2010. Smilisca sordida. In: IUCN 2014
IUCN Terms of Use