Triprion petasatus

family: Hylidae
subfamily: Hylinae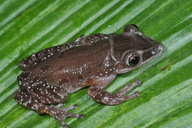 &copy 2011 Dr. Peter Janzen (1 of 13)

Conservation Status (definitions)
IUCN (Red List) Status
Least Concern (LC)
CITES
No CITES Listing

Other International Status
None
National Status
Protected by Mexico.
Regional Status
None
Range Description
This species can be found in the Yucatán peninsula, Mexico and southward to Guatemala and Belize. Also in Lago de Yojoa in northwestern Honduras (0-740m asl).
Habitat and Ecology
This species occurs in the lowlands of semi deciduous forests and savannahs with clearly seasonal rainfalls. In Guatemala this species occurs in subhumid habitats and savannahs. It avoids tall forest and also occurs in a variety of disturbed, anthropogenic habitats. It breeds in temporary and permanent pools.
Population
This species has peripheral populations possibly in decline and other populations that are possibly increasing. It is still one of the most abundant frogs in the Yucatán. It is most abundant in areas that are the most disturbed in Mexico and it is common in Guatemala.
Population Trend
Stable
Major Threats
There are no major threats.
Conservation Actions
It occurs in many protected areas. This species is protected by Mexican law under the "Special Protection" category (Pr).
Citation
Georgina Santos-Barrera, Julian Lee, Manuel Acevedo, Rogelio Cedeño Vázquez 2004. Triprion petasatus. In: IUCN 2014
IUCN Terms of Use