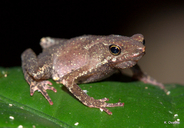 &copy 2013 Kristiina Ovaska (1 of 14)

Authors: Albertina P. Lima, William E. Magnusson, Marcelo Menin, Luciana K. Erdtmann, Domingos J. Rodrigues, Claudia Keller, Walter Hödl

Distribuição na RFAD: Pode ser encontrada facilmente em toda a reserva, porém é mais comum na proximidade de igarapés no lado oeste.

Distribuição geral: Amazônia brasileira, Bolívia, Peru, Equador, Colômbia, Guiana, Suriname e Guiana Francesa.

Descrição: Machos 14-17 mm, fêmeas 18–23 mm. Possuem corpo delgado, exceto as fêmeas com ovos. A coloração do dorso forma um padrão irregular em várias tonalidades de marrom. Possuem diminutos grânulos esverdeados, perceptíveis somente com lupa. Não possuem glândulas paratóides. A parte anterior do ventre e a região gular são negras, enquanto a parte posterior do ventre é branca com manchas negras. As pernas traseiras são mais compridas que o tronco.

Espécie semelhante: Jovens de Bufo proboscideus se diferenciam de D. minutus por possuírem ventre acinzentado a marrom e pernas mais curtas que o tronco.

História natural: Terrestres e diurnos. São encontrados na liteira, na proximidade de igarapés. Alimentam-se principalmente de formigas, besouros, ácaros e colêmbolos. Reproduzem-se durante a estação chuvosa, de novembro a maio. Fêmeas depositam aproximadamente 70 a 250 ovos pequenos e pigmentados, de dia ou à noite, em cima de raízes, troncos e folhas caídas, na proximidade de poças rasas, formadas principalmente por água de chuva. Os girinos são pequenos (comprimento max. aprox.18 mm) e possuem o corpo de cor creme e nadadeiras transparentes; são facilmente encontrados em poças de 20 a 50 cm², associadas a outras maiores.



---

Feedback or comments about this page.

Citation: AmphibiaWeb. 2023. <https://amphibiaweb.org> University of California, Berkeley, CA, USA. Accessed 4 Jun 2023.

AmphibiaWeb's policy on data use.