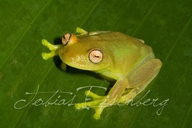 &copy 2010 Tobias Eisenberg (1 of 22)

Description
Males 31-35 mm, females 33-37 mm. The dorsum is transparent green with small yellow spots and smaller red spots. The ventral surface is bluish anteriorely and yellowish green posteriorely. The iris is silver-orange. There is a dark blue membrane above the eye.

Distribution and Habitat


Country distribution from AmphibiaWeb's database: Bolivia, Brazil, Colombia, Ecuador, French Guiana, Guyana, Peru, Suriname, Venezuela

Occurs throughout the Reserva Florestal Adolpho Ducke in Brazil, especially in inundated areas and seepages near streams.

Life History, Abundance, Activity, and Special Behaviors
The species is arboreal, nocturnal, and frequently found in wetland near streams in forest. Reproduction occurs throughout the year, with a peak in the rainy season from November to May. Males frequently call from hidden positions under leaves. The females deposit about 400 eggs in ponds that are normally near streams. The tadpoles are dispersed and hide in the leaf litter in ponds.

Comments
Cochranella oyampiensis differs in having a transparent belly, greenish iris, and T shaped discs on the tips of fingers.
---

Originally submitted by: Albertina P. Lima, William E. Magnusson, Marcelo Menin, Luciana K. Erdtmann, Domingos J. Rodrigues, Claudia Keller, Walter Hödl (first posted 2007-11-21)
Edited by: Michelle Koo (2021-01-18)

Species Account Citation: AmphibiaWeb 2021 Boana cinerascens <https://amphibiaweb.org/species/807> University of California, Berkeley, CA, USA. Accessed Dec 2, 2023.
---

Feedback or comments about this page.

Citation: AmphibiaWeb. 2023. <https://amphibiaweb.org> University of California, Berkeley, CA, USA. Accessed 2 Dec 2023.

AmphibiaWeb's policy on data use.